SHORTS: LOOKING FOR MISTER RIGHT NOW
Boys, men, and masculine bodies meet each other in explosive encounters that are as ephemeral as they are meaningful
Description
A knowing glance across the room. Sweat rolling down your back. Breathing that grows heavier and heartbeats that grow louder. Two people coming together before going their separate ways again. In this sweet and sexy short film program, boys, men, and masculine bodies meet each other in explosive encounters that are as ephemeral as they are meaningful — tender romances with bike-riding strangers, unexpected debauchery in a bathroom stall, and learning what your crush smells like. Close encounters come in all shapes, forms, and identities. Look up from Grindr, let go, and discover a different experience of "Into?" and "Looking for right now."




MY DEAR BOY
Dir. Leaf Lieber, USA, 2022, 5 min
Within the first few seconds of meeting each other, two men experience the rise and collapse of their destined relationship through a surreal journey.




STAY LOST
Dir. Chris Coats, USA, 2022, 12 min
After meeting a charismatic nomadic musician, the life of an aimless young man takes an entirely new trajectory.




EITR
Dir. Fateema Al-Hamaydeh Miller, Canada, 2022, 15 min
A closeted Arab wholesale perfume seller, attempting to mask his identity with excessive amounts of Polo Sport adjacent cologne, is knocked off centre when a charming customer sees through his act.




COWBOY, CHOKER, HARNESS & HEART
Dir. Nicolas Blanco & Julia Ponce Díaz, USA, 2023, 8 min
A bathroom stall hookup gets complicated when some unexpected guests arrive.




SUMMER
Dir. Rafael Ruiz Espejo and Luis Pacheco, Mexico, 2022, 22 min
Night, speed, and adrenaline. A wild world and the longing for someone who will never love you back.




THE DALLES
Dir. Angalis Field, USA, 2022, 12 min
Cam is used to seeing the same customers while working at his family's cherry stand. After a handsome cyclist passes through and asks for directions to a local cruising site, Cam takes it as an invitation to follow him.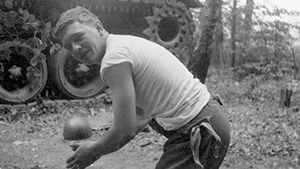 WHAT BECAME OF DAVID BURKETT?
Dir. Duane Michals, USA, 2023, 3 min
Memories of an old friend are filled with questions and longing




GAUZE
Dir. Kevaughn Reid, USA, 2023, 10 min
A semi-meditative love story between an Airbnb host and his guest. Because of Amir, Noah felt something he never thought he would.

This program will be followed by a Q&A.
Showtimes
In-Person
Virtual
Opening, Closing & Lounge Access w/ Festival Pass!
In-person Festival Passes come with benefits like guaranteed tix to Opening and Closing Night plus Festival Lounge access! Want to watch ALL of our virtual films? Secure a Virtual Pass for just $95!
More info on Festival Passes