About NewFest
Founded in 1988, NewFest is New York's largest presenter of LGBTQ+ film & media
and the largest convener of LGBTQ+ audiences in the city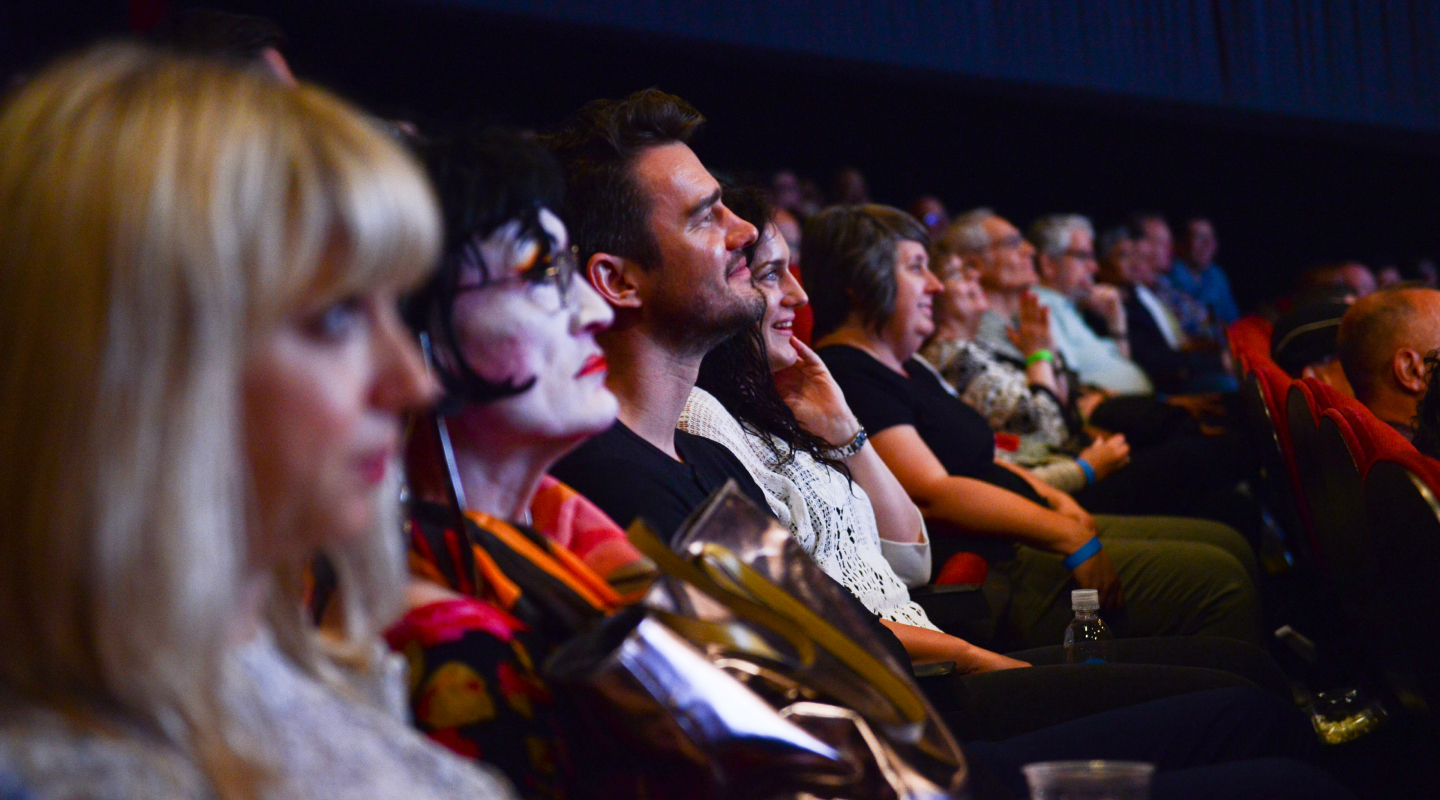 Our mission is to give voice and visibility to the wide scope of LGBTQ+ experiences through films and programs that entertain, educate & empower
We believe that visibility matters, and that queer film can change the world.
32 years ago, a NYC-based queer film movement was born.
Founded in 1988 in direct response to the AIDS crisis, The New York LGBTQ+ Film Festival has been a tentpole of NYC's queer cultural scene. In the subsequent years, NewFest has expanded into a film and media organization with year-long programs to serve all facets of the LGBTQ+ community.
Through the years, we have
Presented the world theatrical premiere of PARIS IS BURNING
Presented New York premieres of
HEDWIG & THE ANGRY INCH, HIGH ART, BOY ERASED, GOD'S OWN COUNTRY, CELLULOID CLOSET, AND THEN WE DANCED, RAFIKI, THE WATERMELON WOMAN, TREVOR, COMMON THREADS: STORIES FROM THE QUILT
Presented Advanced Screenings of
CAROL, MOONLIGHT, CALL ME BY YOUR NAME, LOVE, SIMON, WELCOME TO CHECHNYA, ROCKETMAN, THE KIDS ARE ALL RIGHT, WEEKEND
Filmmakers who have screened at NewFest include
Board of Directors
Bill Berman
Co-Chair
Ogilvy
Sandy Markman
Board Co-Chair
The Estee lauder Companies
Josh Schiowitz
Board Treasurer
Schiowitz Artists Management
Adam Natale
Board Secretary
SVA Theatre
Mike Balaban
Balaban Accosicates
Ann Brown
Bumble and bumble
Ronald Lense
Douglas Ellimman
Jane Sasseen
McGraw Center for Business Journalism
Ron Simon
SimonSays Entertainment
Andrew Uriarte
NYU's Tisch School of the Arts
NewFest Staff
David Hatkoff
Executive Director
David joined NewFest as Executive Director in August 2019. He has spent his career amplifying and elevating the mission and programming efforts of non-profit arts organizations, serving for 11 years in a senior leadership role at NYC's Tony Award-winning Signature Theatre. He was an integral part of Signature's transition to its permanent home, the 75,000 square foot, Frank Gehry-designed Pershing Square Signature Center, and the growth of the company, which more than tripled its budget, staff and programming during his time with the organization. David studied in the MA program at New York University's Gallatin School, with a focus in LGTBQ Studies. He has a deep passion for queer culture and a strong desire to create spaces for queer storytelling.
Nick McCarthy
Director of Programming & Operations
Having been with NewFest since 2016, Nick curates & manages the annual New York LGBTQ Film Festival in addition to NewFest's year-round programming. Nick previously served as the Film Curator at The Tank & worked in academic publishing & international media, serving as a Production Coordinator of the female-led, MENA-region talk show NIDA'A. Nick received a Bachelor of Arts degree in Writing, Literature, and Publishing and Visual Arts / Media Studies from Emerson College. Nick has written about film & media for publications including Slant Magazine, Time Out New York, NBC News, and the Boston Phoenix, and has served on multiple domestic and international film festival juries, including GAZE in Dublin, Columbia University's CUFF in New York City, and Inside Out in Toronto.
Radhika Rajkumar
Development Manager
Radhika Rajkumar has been with NewFest since June 2018. With a background in journalism and photography, she has worked in a variety of media environments attempting to improve issues of race, gender, and sexuality, including Refinery29 and Primary Wave Entertainment. She is a graduate of New York University's Gallatin School of Individualized Study, where she earned a Bachelor's Degree in Media as Global Intersectional Justice.
K Alshanetsky
Communications Associate
K joined NewFest as Communications Associate in the spring of 2020. They hold a Bachelor's degree from Wesleyan University (English; Social, Cultural & Critical Theory) and an MFA in Creative Writing from Rutgers University – Newark.
2020 Festival Team
Monisha Gandhi
Festival Producer
Anita Raswant
Operations & Production Manager
Jaclyn Wohl
Ticketing & Accreditations Manager
Kim Garcia
Exhibition/Filmmaker Relations Manager
Molly Fulton
Publications Coordinator
Cyrus Cohen
Programmer & Programming Coordinator
Shayna Maci Warner
Assistant Programmer & Community Outreach Coordinator